Do you have an E-commerce brand and looking for ways to increase your reach? We will look at ways in which Web Stories can be helpful. Keep reading! 👇
This is an era of fast fashion and online shopping 🛒. Your brand competes with many similar products in the space. A compelling narrative is what differentiates you and your brand.
It's 2021! and almost everyone one on web uses Adblockers. Moreover, Ads are expensive than ever.
Whilst the algorithm generated by Google/Facebook Ads, or social media promotions could do the job in the short term, however, your brand needs a long-term strategy for acquiring customers!
Is SEO the way to go?
SEO is the way to go as search results are the primary source of acquiring new customers. It should be a major driver of traffic to your website over time.
SEO techniques can be useful to Drive Organic Traffic. One of them, being Web Stories.
All in all, SEO is the foundation of a holistic marketing ecosystem. Of, course the keywords must be kept in mind.
We will look at ways in which Google Web Stories can help your brand to achieve more traffic and engagement.
What are Google Web Stories?
Google Web Stories are similar to the stories on Instagram and YouTube. They appear across Google Search, Google Images, or Google Discover.
Google Discover Feed is used by more than 800 million users and Web Stories take prominent space at the top of the feed.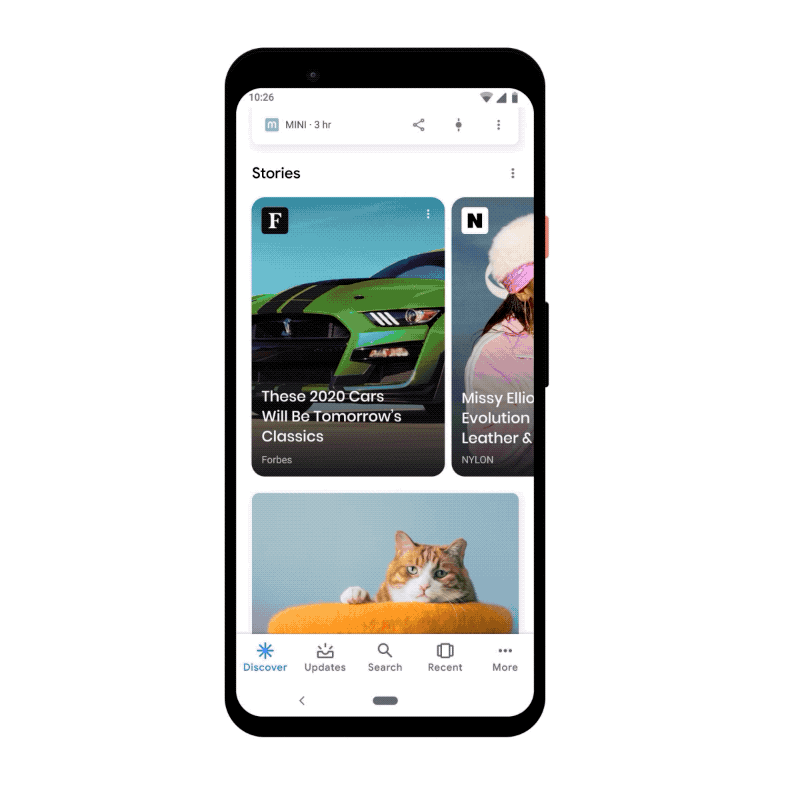 Visual stories that feel like yours, because they are.
How can Web Stories benefit eCommerce brands?
Stories act like an engaging landing page that can highlight the benefits and outcomes of buying your product.
Quick content consumption
What is popping nowadays on social media platforms is their stories feature. They are usually a carousel of eye-catching images/videos/GIFs where we find ourselves mindlessly scrolling for hours together.
Likewise, these stories seem more "clickable" than the conventional Ads and are specially made for the people's shorter attention span these days for quicker and easier consumption of content.
Web Stories are really quick so that the audience stays engaged and entertained while watching your stories.
People are lacking patience for long-form articles and want snackable information and readers like quick bites in their micro-moments. You must ensure each bite delights the audience.
When users are flipping through the stories, you take less than 10 seconds of your audience's time in explaining your product. This is exactly what people nowadays want, especially the younger demographics.
Shoppers and stories viewers these days always look for the next new thing while viewing the Web Stories. For example, if your first story advertises a discounted product, viewers are curious to consume the content in the following stories to look for more discounts or freebies.  
Also, when viewers choose to open and view Stories, the Stories take up the entire screen, all attention is focused on the content.
In this way, the viewers tend to stick around till the end, viewing all the listed products as these are fast to load.
Easy to design Web Stories!
They can be in the form of grids on the Google page which take up lesser space and covers more content.
Plus, these stories are super easy to make. There are third-party apps to make stories.
You can advertise your products to readers of Google Web Stories by designing Single Page Ads.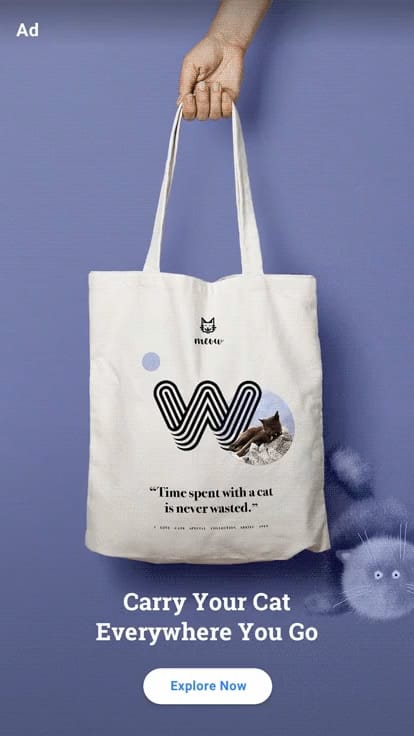 Eye-catching content 👀
Brands that combine visual content, such as images and video, with audio to highlight product information see higher conversion rates.
Images, GIFs, videos: Images and videos fill the readers' screens to have a nicer visual effect. This provides a smooth and fully engaging experience.
Audio, text: Audio -- Short audio files can be used on stories to provide spoken information or background music.
Text -- Numbers, facts, and figures can be attractive with different fonts and gradient overlays.
Animations and dynamic elements: Fade-in, Fade-out animations, fly-out cards, page animations can keep the users engaged.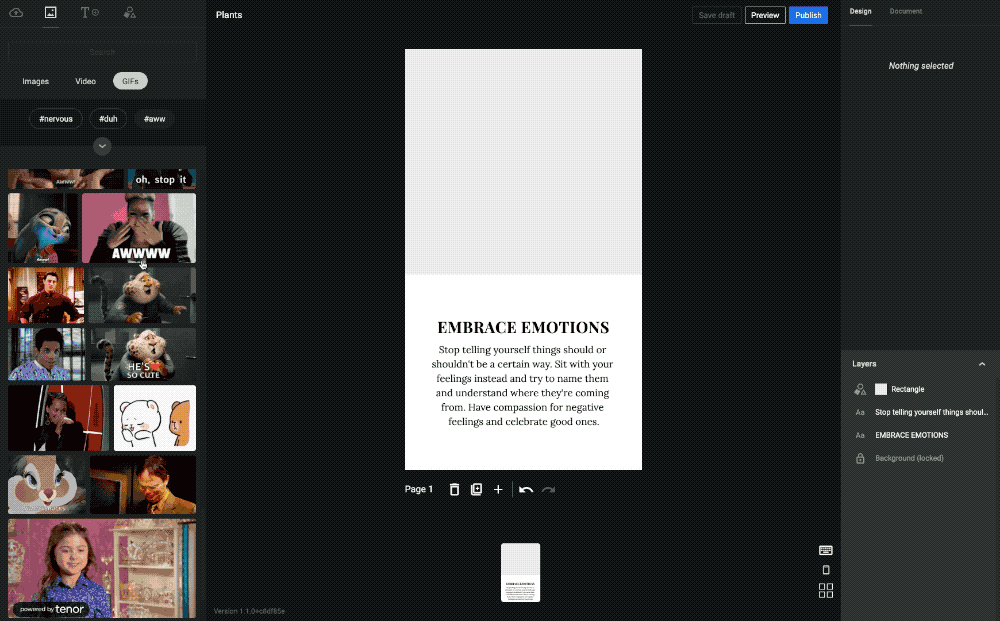 Engagement all the way!
These stories go directly into the search results and are ready to be viewed by millions of viewers across the web.
Social sharing links can be provided at the end of the story to drive more traffic.
Brands are likely to get more engagement as Web Stories offer a wider demographic. This results in the brand's awareness.
Track analytics
What's even cooler is the fact that these stories provide analytics so that you can track the engagements and clicks on links.
They can be linked to an array of analytics platforms like Google Analytics, Mixpanel, Heap, etc,.
This makes Web stories a great marketing strategy that can be measured and optimized.
Complete ownership
You own the content. They have complete control over their code, embedding onto sites while cross-posting.
This means the topics they cover are entirely at their own discretion and without the strict limitations often seen in social media.
You host your Web Stories instead of posting them to an app or other platform. Your copyright, your content, your rules.
Responsive Web Stories
Web Stories are not only confined to mobile but also can be viewed on desktop browsers.
However, for the eCommerce businesses which claim almost 60% of their sales through mobile users, stories can be mobile-focused.
Brands can draw more attention to certain products. For example, bestsellers or discounted products.
Real-time / live-story
Using the "live-story" attribute on your Web Story will notify the user in real-time that you have added a new page.
Art of Storytelling
Storytelling is a great way to engage the audience as they are fun, enjoyable, and pleasing to watch/click through and this feature is relatively new, hence Google prioritizes the Web Stories content format over long-form blogs.
You should think about how you can tell a story or provide an in-depth visual explainer that really drills down into the meat of a subject.
As online customer acquisition costs increase, many eCommerce brands now consider storytelling and content the holy grail of growth.
Whatever form your storytelling content takes, be sure to optimize it to drive product interest and sales. It should entertain, empower, and inspire your audience at the same time.
"Storytelling is one of the most powerful ways to breathe life into your brand and is also one of the main components of a solid content marketing approach."
~ David Campbell
What makes Google Web Stories powerful than social media stories?  
The stories on social media platforms are visible only within the platform. Whereas by using Google web stories you can gain visibility across the Google search network and expand your reach to a much bigger audience.
What makes Web Stories different, according to Google – It is poised as an extension of creators' websites rather than a social media platform.
This is one stand-alone feature that gives Google web stories the upper hand over other social media platforms.
SEO benefit
Web stories can feature their own metadata per page which means that you can target specific keywords.
It gives you the opportunity to feature your Web Stories where people are searching, like organic search results on Google.
No time limit
Unlike the 24-hour stories on Instagram, your Web Stories stay forever on the Internet. It has no expiration and has the potential to get more viewers.
Customizable themes
Your Web stories should be product-specific and the plugins available can customize them for you!
You can use any web font and can add custom animations or modify the underlying CSS.
Staying Connected & Embedding links
The stories are easy to share and embed. You can also integrate your Web Stories into your website.
It can also contain embedded links bringing the user to your product pages unlike other Stories that need you to say "Link in Bio".
They are not confined to a single ecosystem and are part of the open web.
Web Stories Usage Examples
Conclusion
Web Stories are a great way for your eCommerce brand to engage with customers.
They are rich, interactive content that will shoot up engagement and traffic.
So, make Web Stories your competitive advantage and make it last forever!